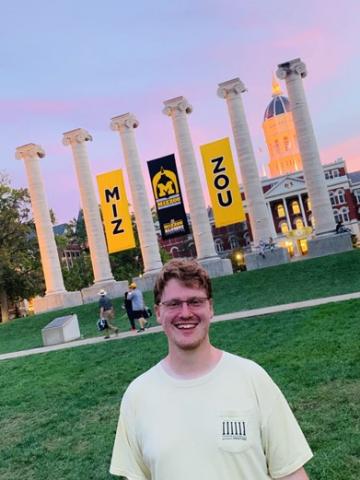 MA candidate - German
Education
Hi there! I'm Thomas and I am a first-year student in the M.A. German program. I graduated from Mizzou in May 2021 with my B.A. in German with an emphasis in K-12 education.
Research
My interest areas include second language acquisition, language teaching, and really anything related to the field of elementary and secondary education.
Bio
When I am not in the office or teaching, you can find me hanging out with friends around Columbia (aka CoMo) and dreaming about the next big trip I want to take. I have visited the German speaking world three times so far, with most of my travels taking me to the city of Stuttgart, the 6th largest German city, and sister city to my hometown of St. Louis, Missouri! I have also visited Berlin, Dresden, Nuremburg, Munich, Bad Reichenhall, and Heidelberg.