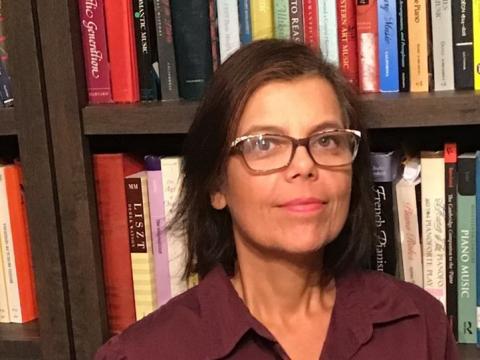 MA candidate - Spanish
Bio
Laura Pita is originally from Caracas, Venezuela. She graduated at Universidad Central de Venezuela in Fine Arts and received a PhD in Musicology from the University of Kentucky with the doctoral dissertation "Teresa Carreño's Early Years in Caracas: Cultural Intersections of Gender, Piano Virtuosity, and Nation-Building the Nineteenth Century."
Her research has focused on issues of cultural identity, race, and gender in the musical cultures of 19th-century Latin America. Currently she is interested in the interdisciplinary study of transnational literary and musical networks in the Americas during the 19th century and the links between literature and music in 19th-century salon culture in Latin America.  
She has contributed several articles to The Grove Dictionary of American Music (2013) and published multiple works on the Venezuelan pianist and composer Teresa Carreño, including musical editions, academic articles, and a chapter in "Very Good for an American:" Essays on Edward MacDowell, ed. by E. D. Bomberger (Pendragon, 2017).
She is an Elected Member of the Boone County Extension Council of the University of Missouri (2019-23), where she chairs the Latinx Outreach Committee. She also serves as Treasurer of the Midwest Chapter of the American Musicological Society (2021-23) and is Review Editor of the Journal of the International Alliance for Women in Music.