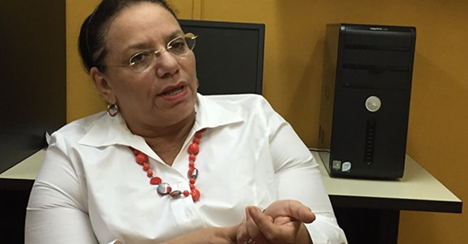 MA candidate - Spanish
Education
BA, additional MA's, or other diplomas, certificates)
Bachelor's in social sciences, Cultural Anthropology (ABD)
Research
Research Interests:
Políticas de representación, género y poder. El estudio y análisis de novelas, poesías y testimonios de autores latinoamericanos, aumentará mi capacidad para entender mejor las múltiples intersecciones (trabajos de cuido, etnicidad, sexualidad, religion, claese social y otras) que operan en la política, para  contribuir a hacer visible las contribuciones de las mujeres y enriquecer la memoria con la que se ha construido y construye la nación nicaragüense.
Politics of representation, gender and power. The study and analysis of novels, poetry, and testimonies of Latin American authors, will increase my ability to better understand the multiple intersections (domestic obligations, ethnicity, sexuality, religion, social class and others) that operate in politics, to contribute to making visible the contributions of women and enrich the memory with which the Nicaraguan nation has been and is being built
Bio
Hace unos años empecé a esbozar la idea de escribir y publicar semblanzas de mujeres que participaron en política y resistieron el autoritarismo patriarcal de muchos de esos espacios. Titulé mi proyecto Malbozaleadas, un sinónimo de lo que en inglés sería Badass.
Escribir  Malbozaleadas es un esfuerzo para enriquecer activamente una narrativa del pasado nicaragüense repleta de muchos silencios. Estas semblanzas retan memorias y olvidos selectivos. La pertinencia de mi trabajo. en curso, estriba en que permite enlazar pasado-presente-futuro, al estimular entre el público lector la pregunta de cómo las rebeldías del pasado nos ayudan a leer críticamente nuestro presente, y nos dan herramienta para construir futuros distintos.
INGLES
A few years ago I started sketching the idea of writing and publishing portraits of women who participated in politics and resisted the patriarchal authoritarianism of many of these spaces. I titled my project Malbozaleadas, a synonymous with what in English would be Badass. Writing Malbozaleadas is an effort to actively enrich a narrative of the Nicaraguan 'past full of many silences. These portraits challenge memories and selective forgetfulness. Its relevance lies in the fact that it allows to link past-present-future, by stimulating among the reading public the question of the reason of past and current social rebellions will help to critically read our present and give us a tool to build a different future. 
Selected Publications
Recent Publications/Presentations/Awards:
Mujeres, rebeldía, disidencia y resistencia en la política nicaragüense  
¿Por qué son relevantes las semblanzas de las malbozaleadas? 
Silvia Ruth Torrez (Sylvia Ruth Torres). 2022,  Revista Envío, Universidad Centroamericana. In press.