German Campus Week 2021: German(y) in Transit
October 18th - 22nd, 2021
Below is the schedule for German(y) in Transit, an event series co-sponsored by the School of Languages, Literatures, and Cultures and the Embassy of the Federal Republic of Germany in Washington, DC, as part of the latter's Time to Act cultural initiative. All four events are open to the public and free of charge; refreshments will follow both the lecture on Monday, October 18th, and the film screening on Tuesday, October 19th. The Thursday, October 21st, event—Missouri's German Heritage—will take place on Zoom and those interested in attending can register here. Please feel free to contact howesw@missouri.edu for information regarding any or all of the events.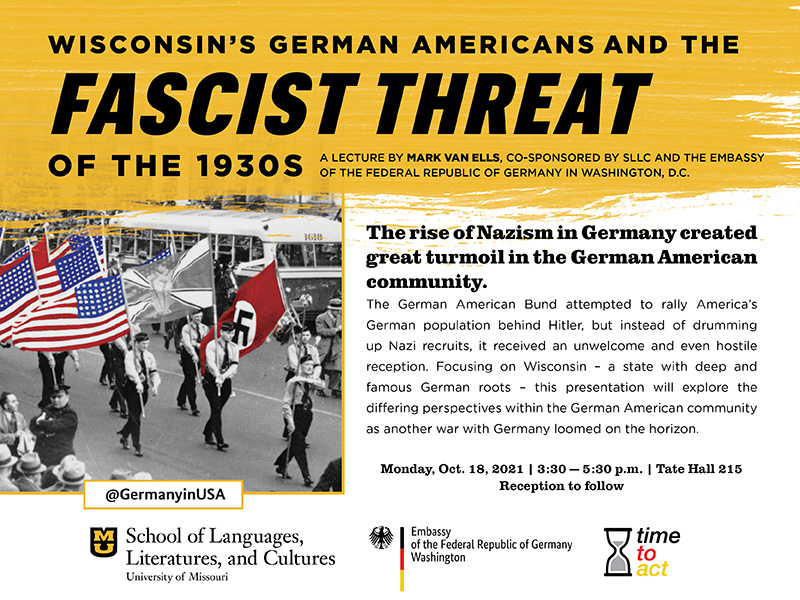 Wisconsin's German Americans and the Fascist Thread of the 1930s
A lecture by Mark Van Ells, Co-Sponsored by SLLC and the Embassy of the Federal Republic of Germany in Washington, DC
Monday, October 18, 2021 | 3:30-5:30 p.m. | Tate Hall 215
The rise of Nazism in Germany created great turmoil in the German American community. The German American Bund attempted to rally America's German population behind Hitler, but instead of drumming up Nazi recruits, it received an unwelcome and even hostile reception. Focusing on Wisconsin — a state with deep and famous German roots — this presentation will explore the different perspectives within the German American community as another war with Germany loomed on the horizon.
Transit (2018, directed by Christian Petzold; 1 hour 41 minutes)
A film screening introduced by Brad Prager, Professor of German and Film Studies, University of Missouri
Tuesday, October 19, 2021 | 6:00 p.m. | Strickland Hall 210
In Christian Petzold's brilliant and haunting modern-day adaptation of Anna Seghers's 1942 novel, Transit, Georg, a German refugee (Franz Rogowski), flees to Marseille assuming the identity of a recently deceased writer whose papers he is carrying. There he delves into the delicate and complex culture of the refugee community, becoming enmeshed in the lives of a young mother and son and falling for a mysterious woman named Marie (Paula Beer). 
"...A film that shivers with the awareness of absence, distance and the relentless, elastic course of time's arrow." - Guy Lodge, Variety
Should the Rosa Parks House remain in Europe? African Americans in Germany after World War II and the Civil Rights Movement in the U.S.
A lecture by Dr. Kristin Kopp, Associate Professor of German and Faculty Affiliate in Black Studies, University of Missouri
Wednesday, October 20, 2021 | 2:00 - 3:15 p.m. | Strickland Hall 210
In 2017, the American-born, Berlin-based artist, Ryan Mendoza, attempted to save Rosa Park's former Detroit house from demolition by the city. Mendoza dismantled it, shipped it to Germany, and rebuilt it there in his own back yard. Having moved since, as it continues its travels across the Atlantic, the Rosa Parks house raises new questions about the historical connections between Europe, Germany, the Civil Rights movement, and the Black diaspora — placing Black history in a much broader transatlantic context.
Missouri's German Heritage
A round-table moderated by Dr. Sean Franzel, Associate Professor of German, University of Missouri
Thursday, October 21, 2021 | 3:30 - 5 p.m. | Zoom 
What do we know about German immigration to Missouri? What can we do in the future to learn more? And how do we communicate this best to the public? This panel will address the cultural history of German immigrants in the Midwest, looking both at historical questions and at current projects. Presenters: Dr. Petra DeWitt, Associate Professor of History, Missouri S&T; Dr. Arthur Mehrhoff, author of Explore Missouri's German Heritage; Caitlin Yager, Director of Heritage Programs, Missouri Humanities
Click here to register for the event!