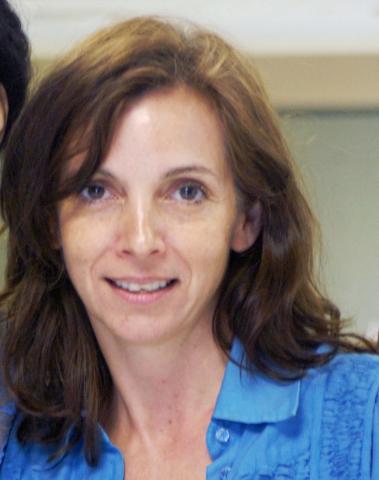 Associate Professor of French
132 Arts & Science Building
573-882-5045
Education
maîtrise, études cinématographiques, Paris III, La Nouvelle Sorbonne (1992)
PhD, French literature, UC Santa Cruz (2000)
Research
Haitian culture, literature, and society; Film Studies; French and Francophone Cultural Studies;  Critical Humanitarian Studies
Valerie Kaussen's monograph, Migrant Revolutions: Haitian Literature, Globalization, and US Imperialism (Rowman and Littlefield, 2008), locates Haitian literary modernity at the forefront of struggles against transnational empire and global colonialism and historicizes recurrent themes of slavery, labor migration, diaspora and revolution in the context of anti-colonial and anti-globalization politics.  Her current project, entitled, Do-it-Yourself Humanitarianism:  Crowdsourcing and Control in Post-Disaster Haiti, is an analysis of the so-called "technology revolution" in the humanitarian response to the 2010 Port-au-Prince earthquake. The project analyzes humanitarian organizations' reports, promotional materials, and visual culture, as well as interviews, and draws upon Kaussen's own experience witnessing the quake and following the post-quake relief and reconstruction project over a period of three years.
Teaching
Kaussen teaches courses on Haitian Studies (including representations of the Haitian Revolution, vodou, and "disaster" in both US and Haitian popular culture); French cultural studies and literature, and Francophone and World Cinema.   Some of her courses  include, "French and Francophone New Wave Cinema," "Haitian Creole Culture," "Environmentalism and Mapping Space in Haitian Literature," "Representations of the Haitian Revolution,"  "Surrealist Film and Literature in France and the French Caribbean," "Direct Cinema in a Global Context,"  and "The Politics of Digital Humanitarianism."
Selected Publications
"Haitian Culture in the Information Economies of Humanitarian Aid" in The Haiti Exception:  Anthropology and the Predicament of Narrative,  University of Liverpool Press, 2016.
"The Labour of Giving:  Global Networks, Humanitarianism, and the Culture of Haitian Earthquake Relief."  Francosphères 4.1 (2015): 85-104.
"Zooming In:  Virtual Disaster Tourism in Post-Earthquake Haiti."  Social and Economic Studies (University of the West Indies) 64.3-4 (2015):  33-78.
"Social Death, Migration, and Home in the Writings of Edwidge Danticat," in Passing Through Home:  Space as Process in US Ethnic Narratives of Return.  Routledge, 2014.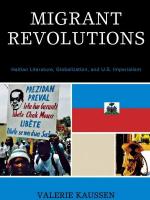 Book
Migrant Revolutions: Haitian Literature, US Imperialism, and Globalization