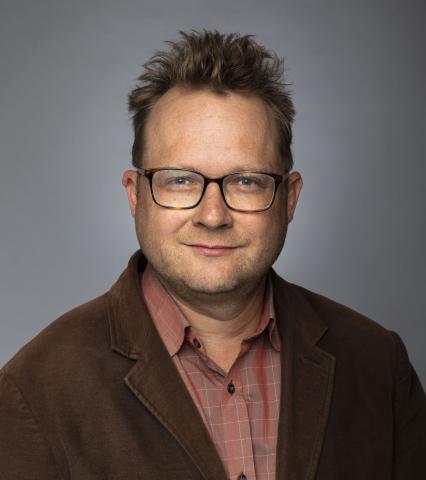 Associate Professor of German
221H Arts & Science Building
573-882-1915 (Main GRS Office)
Education
Ph.D, Cornell University
B.A., Reed College
Research
My research interests span the literary, intellectual and media history of the eighteenth and nineteenth centuries. My first book is an interdisciplinary study of the Romantic and Idealist lecture that intervenes in media history, the history of scholarly culture, theories of publicity, and Romantic legacies in aesthetic and political discourse. My second book (forthcoming, 2023) will be a study of temporality and seriality in the nineteenth-century periodical, titled Writing Time: Studies in Serial Literature, 1780-1850. This project was supported by a grant from the Alexander von Humboldt Foundation.
Other recent projects include a co-edited and co-translated collection of essays by Reinhart Koselleck (Stanford University Press, 2018), and a co-edited journal special issue on periodical literature in the nineteenth century. Previous projects include a co-edited volume of essays entitled Performing Knowledge, 1750-1850 and a co-edited volume of essays on ephemerality as a central concept of the long nineteenth century.
I am currently the book review editor at the Goethe Yearbook.
Teaching
Current and recent courses include a graduate-level seminar on nineteenth-century serial literature, an undergraduate senior seminar on travel and migration in contemporary German literature and film, and a course on web-blogging about culture and current events in Europe and around the world.
Selected Publications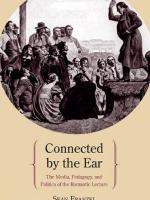 Book
Connected by the Ear: The Media, Pedagogy, and Politics of the Romantic Lecture
Finalist, Novalis Preis, 2014.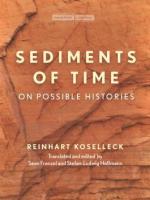 Edited Book
Reinhart Koselleck: Sediments of Time. On Possible Histories
Co-edited and co-translated with Stefan-Ludwig Hoffmann (Stanford University Press, 2018).
Edited Book
Flüchtigkeit der Moderne: Eigenzeiten des Ephemeren im langen 19.Jahrhundert
Co-edited with Michael Bies and Dirk Oschmann (Wehrhahn 2017).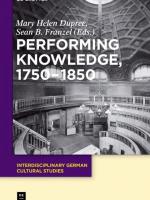 Edited Book
Performing Knowledge, 1750-1850
Co-edited with Mary Helen Dupree (De Gruyter 2015), in the series Interdisciplinary German Cultural Studies.
Edited Journal
Double special issue of Colloquia Germanica  49:2/3 (Published 2018) on "Periodical Literature in the Nineteenth Century," co-edited with Vance Byrd.
Edited Journal
Special issue of Seminar, 49:2 (2013), on "The Eighteenth-Century Novel," co-edited with Matt Erlin.
Articles (selected)
Review essay of Bettina Brandt and Britta Hochkirchen (eds), Reinhart Koselleck und das Bild. Theory, Culture, and Society (2022).
"Heine's Serial Histories of the Revolution." In: The Truth and Logic of the Series, edited by Malika Maskarenic (de Gruyter, 2023).
"Jean Paul's Incomplete Works." In: Reading Miscellanies – Miscellaneous Readings, edited by Daniela Gretz, Markus Krause and Nicolas Pethes (Wehrhahn, 2021).
"Les Cris de Paris: Lebendigkeit, Neuigkeit und Intermedialität in der urbanen Tableauliteratur um 1800." In: Praktiken lebendiger Darstellung, edited by Nicola Gess, Annette Kappeler, and Agnes Hoffmann (München: Fink, 2019).
"Koselleck's Timely Goethe?" The Goethe Yearbook, vol. 26 (2019): 283-300.
"Metaphors of Spatial Storage in Enlightenment Historiography and the Eighteenth-Century 'Magazine.'" In: The Radical Enlightenment in Germany: A Cultural Perspective, edited by Carl Niekerk (Amsterdam: Brill/Rodopi, 2018), 328-352.
"'Alles ist eitel': Flüchtigkeit und Dauer in Schach von Wuthenow." In: Herausforderungen des Realismus. Theodor Fontanes Gesellschaftsromane, edited by Peter Uwe Hohendahl and Ulrike Vedder (Freiburg: Rombach, 2018), 59-84.
"Archiving the Ephemeral: Kleist's Magazines." German Studies Review 40:3 (2017).
"Review Essay: Ambivalent Media Histories." Configurations 25:1 (2017): 109-119.
"Von Magazinen, Gärbottichen und Bomben: Räumliche Speichermetaphern der medialen Selbstinszenierung von Zeitschriften." In: Archiv/Fiktionen. Verfahren des Archivierens in Literatur und Kultur des langen 19. Jahrhunderts, edited by Daniela Gretz and Nicolas Pethes (Rombach: 2016), 207-230.
"Kittler's German Media Histories." In podium section on the Legacies of Friedrich Kittler. German Studies Review 38, no. 1 (2015): 143-15.
"Temporality and Historiography in the Lecture Form." In: Franzel and Dupree, Performing Knowledge, 1750-1850. 295-321.
"Recycling Bildung: From the Humboldt Forum to Humboldt and back." In: special issue of Seminar on "The New German Romanticism," edited by Laurie Johnson 50:3 (Fall 2014): 379-397.
"Romantic Encyclopedics and the Lecture Form: Schelling, A.W. Schlegel, and A. von Humboldt." European Romantic Review 25, no. 3 (2014): 347-356.
"A 'Popular,' 'Private,' Lecturer? Kant's Theory and Practice of University Instruction." Eighteenth-Century Studies 47:1 (Fall 2013): 1-18.
"The Eighteenth-Century Novel as Media Event." Co-authored with Matt Erlin. Seminar, 49:2 (2013). 99-111.
"Towards an Anti-Monumental Literary-Critical Style. Notes on Benjamin and Jean Paul." Telos 159 (Summer 2012). 35-48.
"Time and Narrative in the Mountain Sublime around 1800." In: Heights of Reflection: Mountains in the German Imagination from the Middle Ages to Present, eds. Sean Ireton and Caroline Schaumann (Camden House, 2012). 98-115.
"'Hear him! Hört ihn!' Scholarly Lecturing in Berlin and the Popular Style of Karl Philipp Moritz." Goethe Yearbook 19 (2012). 93-116.
"Experiencing and Studying Models of Liberal Education: from Portland to Germany and back."Thinking Reed: Centennial Essays by Graduates of Reed College, eds. Roger Porter and Robert Reynolds (Reed College, 2011). 159-165.
"The Romantic Lecture in an Age of Paper (Money): Jean Paul's Literary Aesthetics across Print and Orality." Romanticism and Victorianism on the Net 57-58 (Feb-May 2010). Web.
"Branding Berlin: The Humboldt University Celebrates its Founding." The Germanic Review 83:3 (2010): 250-256.
"The Politics and Media of Apostrophe in Hölderlin's Hyperion." The German Quarterly 82:2 (2009): 155-173.
"'Welches Gesetz ist der Mensch in seiner Wirksamkeit?': Pedagogy and Media in Fichte's Encounter with Mesmerism." The Germanic Review 84.1 (2009): 3-25.
"Cultures of Performance, Gender, and Political Ideology in Fontane's Vor dem Sturm." Colloquia Germanica 41:1 (2008): 11-32.