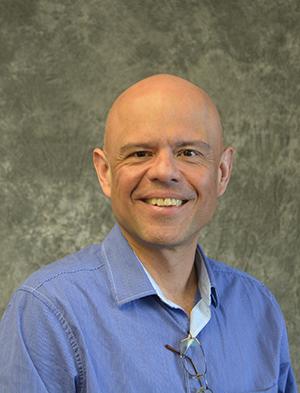 Associate Professor of Spanish
131 Arts & Science Building
Education
PhD, University of California-Berkeley, 2005.
J.  D. Universidad San Martín de Porres-Lima, Perú, 1987.
A native of Lima, Perú, Professor Reyna's teaching and research interests includes Colonial Spanish American literature, Andean literature, historiography, and culture. 
Research
Books:
-Verdadera Relación de la Conquista del Perú. Madrid: Editorial Pliegos, 2016.
-True Account of the Conquest of Peru. New York: Peter Lang, 2013.
-El Encuentro de Cajamarca. Lima: Fondo Editorial Universidad Nacional Mayor de San Marcos, 2010.
Articles:
- "El Inca Garcilaso de la Vega y la "Guerra de los Encomenderos": un conflicto de lealtades." Nuevas de Indias. Anuario del CEAC, Vol. 5, pp. 90-108, 2020.
- "Las cartas y memoriales de Alonso de Medina: ¿Es posible hablar de un «sentimiento criollo» en el siglo XVI?" Hipogrifo 4-1:231-241. 2016.
- "¿Héroe o traidor?: El rol de Ciquinchara en la captura del Inca Atahualpa en Cajamarca." Chasqui 41-1:85-94. 2012.
- "El orejón Ciquinchara y su participación en los eventos previos a la captura del Inca Atahualpa en Cajamarca." Corrientes 2: 87-104. 2010.
- "La chicha y Atahualpa: el Encuentro de Cajamarca en la Suma y narración de los Incas de Juan Diez de Betanzos." Perifrasis 1-2: 22-36. 2010.
- "El requerimiento o el libro: Alonso de Borregán sobre la captura del Inca Atahualpa" Literatura, prácticas críticas y transformación cultural. JALLA 2006. Bogotá: Editorial Pontifica Universidad Javeriana, 237-46. 2008.
Invited, proceedings and other publications:
-Review of Sara Castro-Klarén and Christian Fernández, Eds. Inca Garcilaso and Contemporary World-Making. Revista Canadiense de Estudios Hispánicos, 40(3), April 2016:659-661.
-El mal y la narrativa: propuesta para reformular nuestra lectura de los textos coloniales de la conquista.  Memoria electrónica JALLA 2014 / Universidad Nacional. Facultad de Filosofía y Letras ; Albino Chacón Gutiérrez, Charleene Cortez Sosa, compiladores y editores. - – Heredia, CR. : UNA, 2014.
-"Las venas aún están abiertas: Obama y Latinoamérica, el primer año"  Palabras  2: 85-94. 2010.
-"Una nueva versión del Encuentro de Cajamarca en la vieja Crónica de Alonso de Borregan" Actas de las Jornadas Andinas de Literatura Latinoamericana. CD-ROM. Bogotá: Ediciones Uniandes, 2006.
-"El encuentro de Cajamarca: historia de una historia"  Memorias de JALLA 2004 Lima.  Carlos García Bedoya, ed.  Lima: Editorial San Marcos, 1579-91. 2006.
-"Law."  Encyclopedia of Contemporary Latin American and Caribbean Cultures.  Daniel Balderston, ed.  New York: Routledge, 841-2. 2000.
Teaching
Iván Reyna teaches a variety of classes, including Colonial Spanish American Literature, Andean Literature and Culture, Survey of Spanish American Literature, introductory classes on Hispanic Literatures as well as other intermedia and advances classes in Spanish.