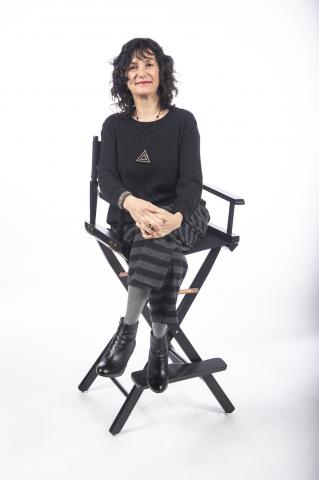 Associate Professor of Italian; Affiliate Faculty of Film Studies & Women's and Gender Studies
133 Arts & Science Building
Education
Ph.D., University of Wisconsin-Madison, 2001 (Italian Studies, with Minor in Film Studies)
M.A., University of Wisconsin-Madison, 1992 (English)
B.A.-Laurea, University of Bologna, 1989 (Foreign Languages & Film Studies)
Research
Dr. Tabanelli's research interests are in 20th and 21st century Italian cinema and literature, with particular focus on Neapolitan cinema and literature, transnational cinema, adaptation studies, women's studies, and posthuman theories. She has published a book on Neapolitan cinema, I 'pori' di Napoli. Il cinema di Mario Martone, Antonio Capuano e Pappi Corsicato (Longo Editore, 2011), and articles and essays on various Italian contemporary writers and filmmakers. She is also the author of a textbook for intermediate to advanced Italian composition courses, Scrivi bene! Writing Effectively in Italian (Farinelli, 2016) and co-author of the Film Study Program Bianco e nero (Edizioni Farinelli, 2013) and the Workbook and Lab Manual for Crescendo! 2nd ed. (Thomson Heinle, 2007).
Dr. Tabanelli is currently working on a book-length project on contemporary Italian transnational cinema. For this research, she was granted a Fellowship Residency by the Bogliasco Foundation.
She is on the editorial boards of Journal of Urban Cultural Studies and Journal of Italian Cinema & Media Studies.
Teaching
Dr. Tabanelli teaches a wide range of courses, including Intermediate Italian (ITAL 2160), Italian Civilization (ITAL 2310), Italian Cinema (ITAL/FILM S 2850), Transnational and Migrant Cinema (ITAL 3450), and Italian Women's Studies (ITAL 3430).
Since Fall 2018, Italian Civilization has been re-designed as a 100% e-learning, asynchronous course; this class meets Humanities Requirement for Gen Ed.
ITAL 3450-Transnational and Migrant Cinema meets A&S Diversity Requirement.
Dr. Tabanelli is Affiliate Faculty of Film Studies and Affiliate Faculty of Women's and Gender Studies and her courses are often cross-listed with other departments and programs.
She has also been serving as Faculty Advisor for the Italian Club, a student organization at MU, since 2015.
Selected Publications
"Antonietta De Lillo." The Gynocine Project: Feminism, Genders, and Cinemas. https://www.gynocine.com/antonietta-de-lillo-bio.
"Mario Martone." M. Gieri and D. Santeramo (eds.), XX Century Italian Filmmakers, Rome: UniversItalia (2020), 347-353.
"Voice and Vision. The Making of L'amore molesto/Troubling Love by Mario Martone." Journal of Italian Cinema & Media Studies 7.2 (2019): 217-231.
"My Brilliant Friend by Saverio Costanzo". g/s/i. 6 (2019).
"Transnational Memories: An Interview with Marco Bechis." Journal of Italian Cinema & Media Studies 5.1 (2017): 83-92.
"Authorial Visions: Saverio Costanzo's Negotiation with Auteurism." Journal of Italian Cinema & Media Studies 4.2 (2016): 211-229.
"Blue-Haired Girl Mnemonic: Italian Sci-Fi Nirvana." g/s/i 2 (2015).
"Politica, arte e teatro: dissezione analitica di Noi credevamo di Mario Martone." F. Orsitto (ed.), Cinema e Risorgimento. Visioni e revisioni. Manziana: Vecchiarelli (2012), 321-330.
I 'pori' di Napoli. Il cinema di Mario Martone, Antonio Capuano e Pappi Corsicato. Ravenna: Longo Editore (2011).
"The Violence of History in Marco Bechis's Argentina." New Cinemas: Journal of Contemporary Film 9.2-3 (2011): 127-146.
"An Unstable Body: The Cinema of Antonietta De Lillo." Studies in European Cinema 8.2 (2011): 89-100.
"Al di là del corpo: la narrativa postumana di Laura Pugno." Italian Culture 28.1 (2010): 3-20.
"Il cinema 'privato' di Saverio Costanzo." D. De Pau and S. Dubrovic (eds.), Zoom d'oltreoceano: istantanee sui registi italiani e sull'Italia. Manziana: Vecchiarelli (2010), 335-351.
"Il post-umano (femmineo) di Simona Vinci." Annali d'Italianistica 26 (2008): 379-388.
"Corpo d'operaio e d'assassino: la narrativa dei sensi di Erri De Luca." M. Swennen Ruthenberg (ed.), Scrivere nella polvere: Saggi su Erri De Luca. Pisa: Edizioni ETS (2004), 63-81.